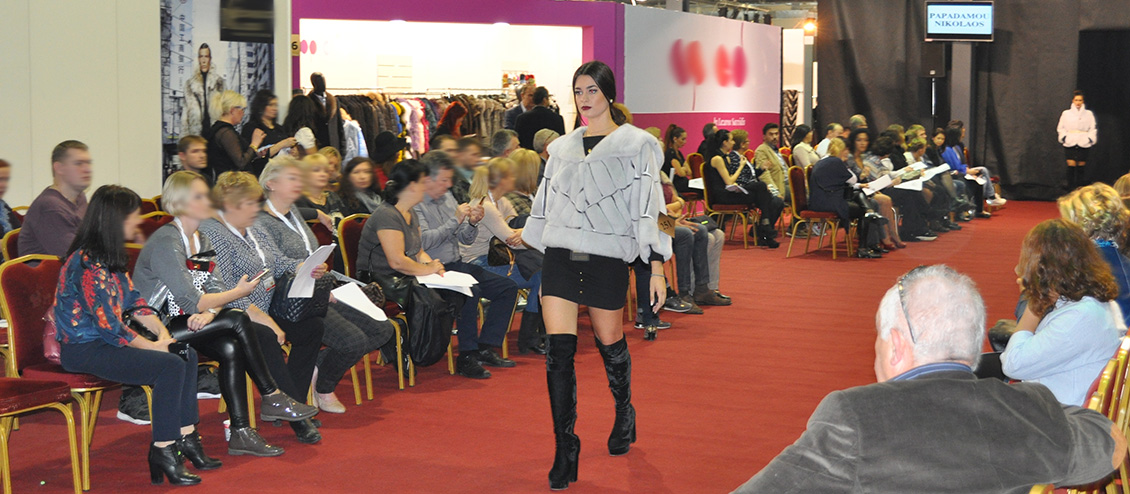 Fur Exhibitions
Vassou Papadamou Furs, has a long history of participations in fur exhibitions. Each year we participate both in Athens Fur Excellence Expo and in Kastoria International Fur Fair.
Athens Fur Excellence
Vassou Papadamou Furs participated in INTERNATIONAL FUR FAIR FUR EXCELLENCE IN ATHENS which was organized by the Hellenic An event of strategic importance for the fur industry, it aims to:

Launch a new era
Be a growth driver for the Greek and the international fur industry
Be a reference point for fur fashion and the fur industry in general
Greece, the largest production centre after China, geographically close to the largest market of Russia, bears all the features needed to organize an international exhibition for professionals in the industry (manufacturers, designers, auctions, skin dealers, tanneries, consumables suppliers, the press, etc.). The HAF aims to create an exhibition that will serve the needs of professionals while flexibly and dynamically adapting to market changes and needs.
We sieze the opportunity to thank all our customers from both fur fairs
Kastoria Fur Fair
We would like to thank all customers who visited us at the International Fur Fair of Kastoria and also to honor our participation in the competition for better design and modern style.Collections presented fashion options for the modern woman, for men and for children. Fur does not only concern women's coats, but also cardigans, jackets, scarves (étole), dresses and fur accessories tha can be worn in many ways, with various combinations anytime and everywhere. Fur is again in the foreground, gaining day by day more and more consumers, as a timeless and genuine product accessible to everyone.
Fur Shopping Festival
The traditional technique enriched with new ideas, new materials and new designs, the "heavy" fur gives its place to creations for every day and gains even the most demanding buyers' attention. Elegance is dominating, combined with quality and high aesthetics. The creative mood of designers combines classical and modern techniques with traditional techniques. These modern style collections gain the reward of all, in one glamorous Gala which could only be compared with catwalks of well-known fashion houses.